Division of Reproductive Endocrinology and Infertility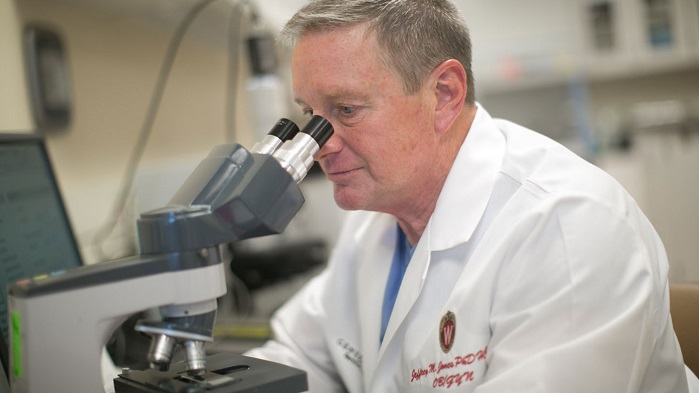 The Reproductive Endocrinology & Infertility (REI) program offers the latest technology and compassionate, personalized care to assist people who wish to become parents, including a variety of services for both male and female fertility concerns. Historically, the female element is 50%, male element is 30% and a combination factor of both female and male is 20%.
Our couples clinic is the first of its kind in the area and will allow a couple go through the evaluation and treatment journey simultaneously as they begin to identify the infertility factors in an efficient manner. This provides a greater understanding by the couple about fertility issues, helps them cope with the emotional aspects together and ultimately provides a more coordinated effort by the team to offer time-effective and cost-effective care.
History
The University of Wisconsin Hospitals and Clinics has provided Reproductive Endocrinology and Infertility care to people from all parts of the country since 1974. It was the first program in the state of Wisconsin and the fifth in the United States to offer in vitro fertilization (IVF). In July 1984, the first baby in Wisconsin was born resulting from an IVF procedure. That procedure was performed at the University of Wisconsin. From the beginning of Assisted Reproductive Technology, the University of Wisconsin has been at the forefront of science and continues to be a leader today.
Our Team
Our expert team of endocrinologists, clinical psychologist, embryologists and nursing support staff are among the finest in the country. As a team, they offer the full complement of fertility and reproductive medical treatment combining the latest reproductive technologies with the highest standards of patient care.
Highest Standards
The program adheres to the standards of their professional organization, the American Society of Reproductive Medicine, and is registered by the Society of Assisted Reproductive Technology (SART).
Contact Us
Role title: Medical Program Assistant Associate
2365 Deming Way
Middleton, WI 53562
Email: eblazel@wisc.edu