Diversity, Equity, Inclusion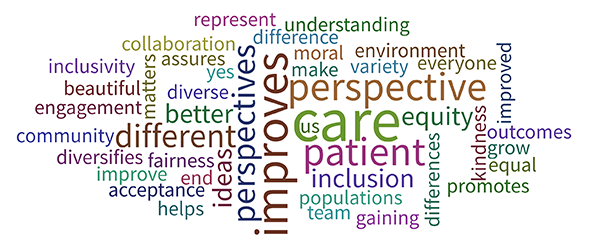 At the University of Wisconsin Department of Obstetrics and Gynecology, we value and promote an inclusive environment that respects, welcomes and embraces differences across all of our missions including, but not limited to race, gender, gender identity, ethnicity, language, sexual orientation, age, physical or mental ability, religion, income, and national origin.
To achieve this, we provide education and promote policies and practices that support patients, their families and our employees throughout the State of Wisconsin and beyond.
We embrace the mission, vision, values, and strategies set forth by the University of Wisconsin School of Medicine and Public Health, UW Health, and the combined Office of Diversity and Equity Transformation. As the Department of Obstetrics and Gynecology, we embrace the American College of Obstetricians and Gynecologists' Commitment to Changing the Culture of Medicine and Eliminating Racial Disparities in Women's Health Outcomes.
---
The UW Ob-Gyn Diversity, Equity and Inclusion Committee's goals are to:
Make the department more welcoming and inclusive
Incorporate anti-racism principles throughout the department
Increase diversity among faculty, staff, trainees, and collaborators
Improve the patient experience and health outcomes for women from underrepresented groups
UW Ob-Gyn DEI Committee
|
Katherine Sampene, MD – Co-Chair
Jacquelyn Adams, MD
India Anderson-Carter, MD
Sari Archer, NP
Jacquelyn Askins
Gabrielle Avery, MD
Laura Berghahn, MD
Shiva Bidar-Sielaff
Cheryl Casey'Grant
Anastasia Doherty, CNM
Greg Erickson
Denise Fryzelka, CNM
Luther Gaston, MD
Laura Hanks, MD
Ellen Hartenbach, MD
Emelle Holmes-Drammeh, PA
Kara Hoppe, DO, MS
Beverly Hutcherson
Laura Kwitek, DNP
Ushma Patel, MD
Benjamin Pickus, MD
Awa Sanneh, MD
Gloria Sarto, MD
Lisa Scott, PhD
Nicole Shapiro, NP
Naomi Takahashi
Jodi Wagner, CNM
Catherine Zhang, MD
Diversity, Equity & Inclusion