2022 Department Research Day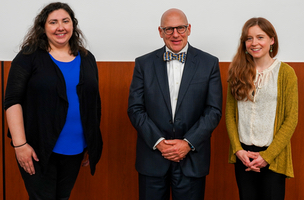 On May 26, 2022, the UW Department of Ob-Gyn hosted Department Research Day, which included many research presentations from across the Department.
Jeffrey Peipert, MD, chair of the Indiana University School of Medicine's Department of Obstetrics and Gynecology, kicked off Department Research Day with the keynote presentation "The Contraceptive CHOICE Project to Path4You: Lessons Learned".
Next, graduating UW Ob-Gyn Gynecologic Oncology fellow Shannon Rush, MD presented "A Revised Markov Model Evaluating Oophorectomy at the Time of Hysterectomy for Benign Indication". Rush's research included in this presentation was published in Obstetrics and Gynecology in May 2022 (and even featured on the cover of the journal).
Graduating Maternal-Fetal Medicine fellow Jennifer Jacobson, MD presented "Uterine artery endothelium enhances the development of hypertension in preeclampsia via immune-mediated secretion of Th17 cytokines".
After the fellowship presentations, Laura Jacques, MD, of the UW Ob-Gyn Division of Academic Specialists in Ob-Gyn, presented ""I'm going to be forced to have a baby": A study of COVID-19 abortion experiences on Reddit".
Finally, UW Collaborative for Reproductive Equity postdoctoral scholar Jane Seymore, PhD presented "Measuring health care access: Lessons from studies of abortion access in the United States".
The event also included a poster session – read more about the 11 posters brought to Department Research Day in the program here.
Congratulations to all who shared research at the 2022 UW Ob-Gyn Department Research Day!