Al-Niaimi presents at Carbone Grand Rounds and UC Irvine surgery course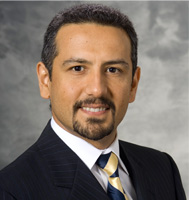 Ahmed Al-Niaimi, MD, of the UW Ob-Gyn Division of Gynecologic Oncology, brought his surgical and quality improvement expertise to two recent presentations!
On May 11, 2022, Al-Niaimi presented the lecture "Surgical Quality outcomes: Past, Present and Future" at the UW Carbone Cancer Center Oncology Grand Rounds.
Al-Niaimi also brought presentations to the University of California, Irvine annual Advanced Course in Cytoreductive Surgery for Gynecologic Peritoneal Surface Malignancies, which was held May 13-14, 2022. His presentations focused on bowel staple devices, and celiac axis, nephrectomy, and adrenalectomy.
Incredible work, Dr. Al-Niaimi!