Antony discusses COVID vaccines, pregnancy with Verywell Health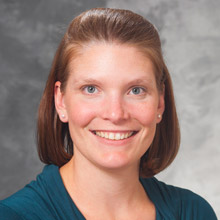 Katie Antony, MD, of the UW Ob-Gyn Division of Maternal-Fetal Medicine, spoke with Verywell Health about COVID-19 vaccination during pregnancy!
In "COVID Vaccine During Pregnancy Protects Babies, Study Shows", Antony provided an overview of how immunity is passed from the pregnant person to the fetus, how long antibodies persist in babies after birth, and other ways to protect newborns from COVID infections:
"Antony said that the antibodies that are passed from a pregnant person to a developing fetus do stay in the baby's circulation after birth—but only temporarily.

"The antibodies start to decrease within the first few weeks to months of life depending on the type of antibody, how much was present, and whether there was a higher circulating amount of that antibody in the pregnant person's blood or not," said Antony. "Antibodies can last somewhere between a 3- to a 6-month window, but some can last up to 12 months.""
Read the whole article here!