Antony's OBLido study published in AJOG MFM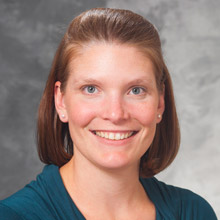 A study by Katie Antony, MD, of the UW Ob-Gyn Division of Maternal-Fetal Medicine, was published in the American Journal of Obstetrics and Gynecology – Maternal-Fetal Medicine! Jackie Adams, MD, of the MFM Division, and Laura Jacques, MD, of the Division of Academic Specialists in Ob-Gyn, co-authored the study.
"Lidocaine patches for postcesarean pain control in obese women: a pilot randomized controlled trial" assessed the impact of using lidocaine patches around cesarean incisions in patients with obesity in their overall opioid use.
The pilot study included 61 participants, who were randomized into trial or placebo group. The study assessed cumulative opioid dose within 24 hours after cesarean delivery, as well as pain and patent satisfaction:
"This pilot suggests that 5% lidocaine patches applied superior and lateral to the cesarean incision are not effective at reducing the average total dose of morphine milligram equivalents administered in the first 24 hours after cesarean delivery among women with obesity, and they did not seem to improve median pain scores. An appropriately powered randomized trial would not be expected to demonstrate reduction in opioid use or pain."
Read the whole study here!