Barroilhet joins WPR to talk about impacts of Wisconsin abortion laws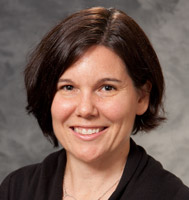 During her time as interim chair of the UW Department of Ob-Gyn, Associate Professor Lisa Barroilhet, MD, MS spoke with Wisconsin Public Radio on two occasions about the impacts of Wisconsin's 1849 law restricting the availability of abortion care in the state.
In Wisconsin, what are my options if genetic testing shows the fetus isn't viable? – WHYsconsin
In this listener-question-driven segment, Barroilhet shared UW Health's institutional understanding of whether fetal anomalies would affect availability of abortion care:
""In the absence of any maternal illness, genetic abnormalities in the fetus — including those that would not allow the fetus to survive outside the womb — do not constitute a life-threatening condition for the mother," Dr. Lisa Barroilhet, interim chair of the Department of Obstetrics and Gynecology, University of Wisconsin School of Medicine and Public Health, said in a written statement. "Because the abortion is not being performed to save of the life of the mother, it would not be legal in Wisconsin per the 1849 statute.""
Read the whole article here.
How Wisconsin's near-total abortion ban is impacting people with pregnancy complications, miscarriages – Central Time
In this interview, Barroilhet discussed what navigating the uncertainty has been like for patients and medical professionals. Listen to the whole interview here.