Barroilhet named first-ever Dolores A. Buchler, MD, Professor in Gynecologic Oncology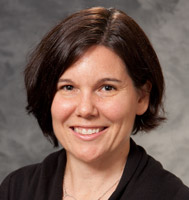 A special congratulations to Lisa Barroilhet, MD, of the UW Ob-Gyn Division of Gynecologic Oncology, as she is officially appointed the first Dolores A. Buchler, MD Professor of Gynecologic Oncology.
It is only once or twice a lifetime that you come across a doctor like Dolores "Dee" Buchler.
Dee joined the University of Wisconsin in 1969 after finishing her residency at University of Kansas where she trained in Ob-Gyn and the emerging fields of gynecologic oncology and radiation oncology—an extremely rare combination, and especially notable for a woman at that time. Her prowess in radiation techniques and her unparalleled surgical skills combined were truly a rare commodity. She was a pioneer in the treatment of gynecologic malignancies and a true innovator in the field, developing techniques for women's cancers which now serve as the national model.
Dee also was a leader in the department, beloved by learners, patients and colleagues alike. Dr. Buchler retired in 1995 as a professor in both Obstetrics and Gynecology and Human Oncology, leaving behind a legacy of impactful education, innovation, and care.
In 2015, Dee established the Dolores Buchler Faculty Fellowship of Gynecologic Oncology to support a young surgeon with a passion for research and educating a new generation of doctors. This year, Dee doubled down on her legacy by transforming her Fellowship to a Professorship, taking advantage of a unique match opportunity provided by John and Tashia Morgridge.
We are thrilled to add Dr. Lisa Barroilhet, the Dolores A. Buchler Professor of Gynecologic Oncology, to our growing list of endowed professors in Obstetrics and Gynecology. The funding provided by Dr. Buchler will protect Dr. Barroilhet's time and provide discretionary funding to advance her research.
Dr. Buchler's generosity and vision continue to inspire our department and work, and we will be forever grateful as her professorship moves the needle on women's cancers forever.
To learn more about professorships and endowed funds to support Ob-Gyn research, faculty, and training, contact Lily Johnson at 608-354-4918 or lily.johnson@supportuw.org