Barroilhet presents keynote speech at Middleton Society event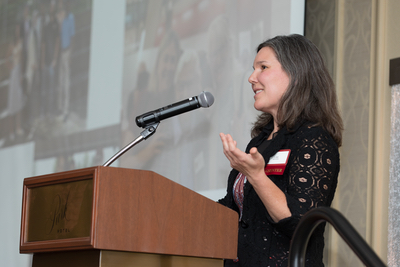 On September 30, 2022, Lisa Barroilhet, MD, MS, associate professor in the UW Ob-Gyn Division of Gynecologic Oncology, presented the keynote speech at the UW School of Medicine and Public Health's Middleton Society event.
Barroilhet presented "Women Need Us Now: The Science and Strategy of Cancer Prevention" to an audience of UW SMPH alumni, friends, and supporters. In her talk, she provided an update on the physiology of cancer, stressed the importance of research into screening and prevention, and highlighted opportunities for donors to support research efforts at UW.
The Middleton Society, the philanthropic society of the University of Wisconsin School of Medicine and Public Health, honors alumni, faculty and friends who support hope and encourage the scientists, clinicians, teachers and students who translate hope into action.

Incredible work, Dr. Barroilhet!