Barroilhet promoted to Associate Professor (tenure track)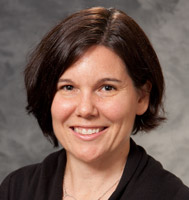 Our congratulations to Lisa Barroilhet, MD, of the UW Ob-Gyn Division of Gynecologic Oncology! Barroilhet has been promoted to Associate Professor (Tenure Track). The promotion and track transfer will be effective July 1, 2021. Previously, Barroilhet was an associate professor (CHS track).
Since joining the department in 2012, Barroilhet has earned a distinguished reputation in research and patient care. Just a few incredible accomplishments in recent years: in 2020, she earned an R01 grant from the NIH to study atovaquone and ovarian cancer, and was appointed the first-ever Dolores A. Buchler, MD Professor of Gynecologic Oncology.
Congratulations, Dr. Barroihet!