Betancourt Ponce presents poster at SACNAS Conference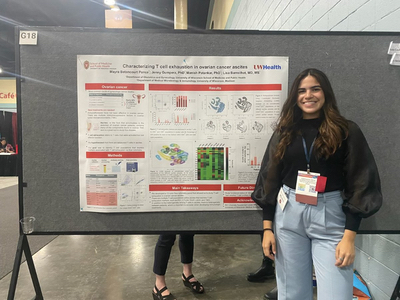 Congratulations to Mayra Betancourt Ponce, UW School of Medicine and Public Health MD/PhD student, who recently presented a poster at the SACNAS National Diversity in STEM Conference in San Juan, Puerto Rico!
Betancourt Ponce presented the poster "Characterizing T cell exhaustion in ovarian cancer ascites" during the three-day conference in late October. In addition to being a student in the UW-Madison Medical Scientist Training Program, she is a trainee in the lab of Lisa Barroilhet, MD, MS, in the UW Ob-Gyn Division of Gynecologic Oncology.
Incredible work, Mayra!