Brown to depart for Kaiser Permanente in San Diego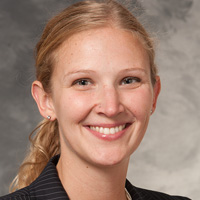 It is bittersweet to announce a sad loss for our department, but an exciting life change for our friend and colleague: Heidi Brown, MD, MAS, will be leaving UW Ob-Gyn for a new opportunity at Kaiser Permanente in San Diego, CA later this year. Her last day in the department will be June 30, 2023.
Please join us in thanking Dr. Brown for her tremendous contributions to the department over the last ten years!
Since joining the UW Department of Ob-Gyn in 2013, Dr. Brown has earned a reputation as a distinguished researcher, educator, and clinician. She has earned exciting institutional and national grants to support research around expanding continence promotion programs, addressing access issues for women across Wisconsin. Her Mind Over Matter: Healthy Bowels, Healthy Bladder program is included on the U.S. Administration for Community Living's Title III-D program, meaning community agencies can use federal funding to bring the program to their communities. Throughout her career, Dr. Brown has demonstrated an incredible dedication to health equity research.
She is a nationally and internationally recognized scholar, bringing hundreds of abstracts and dozens of presentations to professional societies around the world. Her work has received awards like Best Clinical Abstract and Best in Category: Prevention and Public Health at the International Continence Society annual meeting, Best Evaluation and Testing Paper at the American Urogynecologic Society annual meeting, and more.
Though Dr. Brown may be moving on, her legacy of mentorship will leave a lasting mark on our department, the UW School of Medicine and Public Health, and our field. She has been an active mentor for undergraduates, medical students, residents, fellows, and faculty – during her time in Wisconsin, she has been a formal and informal mentor to dozens of people, coaching them along the path to success.
Before joining our department in 2013, Dr. Brown completed her FPMRS fellowship at UCSD/Kaiser Permanente, and no doubt the faculty there have been following her rising star with great interest. Our loss is absolutely Kaiser's gain. Thank you, Heidi, for your tireless efforts to improve incontinence awareness and care in our state, your dedication to mentorship and health equity, and so much more. You will be greatly missed!