Congratulations 2022 Women's Health and Health Equity Research Lecture & Symposium award winners!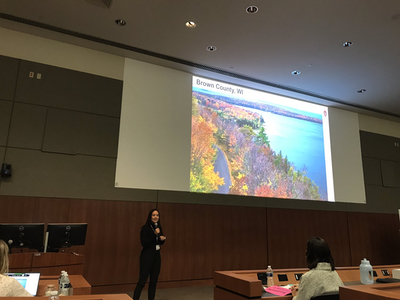 The 2022 UW Women's Health and Health Equity Research Lecture and Symposium took place on October 20. This annual event brought together healthcare professionals, population health experts and community advocates dedicated to advancing health equity for a busy morning of presentations and poster sessions highlighting research that addresses persistent gender, racial, and other disparities. You can watch video from the 2022 event here!
The event opened with a new feature this year: five scholars presented three-minute Brief and Brilliant talks, giving the audience a bite-sized view of their work. Megan Murphy-Belcaster, medical student in the UW School of Medicine and Public Health, received the Best Brief and Brilliant award for her talk "Delivery Method Trends for American Indian Mothers Over Two Decades in Brown County, WI".
The full list of Brief and Brilliant presentations:

Innovations in Measuring Intrapartum Care Quality at the Population Level

Fiona Weeks, MSPH (PhD candidate in Population Health)
Delivery Method Trends for American Indian Mothers over Two Decades in Brown County, WI
Megan Murphy-Belcaster, BS (MD expected 2023)
Leveraging Quality Improvement to Promote Health Equity: Prenatal Aspirin Recommendations by Race
Maya Gross, MD
A Translational Science Lens on MCH: A Reproductive Biology Perspective
Beverly Hutcherson, BS (MS in Endocrinology and Reproductive Physiology expected 2022)
Urinary Incontinence in African American Community-Dwelling Women: Prevalence and Care Seeking
Kristina Warner, MD
This year's Symposium included the keynote lecture "Pioneering Racial Justice, Health Equity, and the Health of Black Women: The Medical Career and Activist Life of Dr. Virginia M. Alexander" delivered by Vanessa Northington Gamble, MD, PhD, University Professor of Medical Humanities at The George Washington University.
Health Disparities Research Scholar postdoctoral trainee Guadalupe Aguilera, PhD, gave the presentation "Addressing Gaps in Long-term Care Needs After Stillbirth – A Focus on Mental Health, the Family, and Material Wellbeing Among Foreign-born Persons". Tia Murray, founder and CEO of Harambee Village Doulas, and Associate Professor Kara Hoppe, DO, MS, presented an overview of their shared project "Engaging community doulas to improve health equity for Black birthing people with hypertension."
Presenters brought more than a dozen posters to the Symposium this year. The judging committee awarded two Best Poster prizes to:
Zoom to scale? Real world implementation of online versus in- person community-based continence promotion
Authors: MK Moureau, ZA Rozema, HW Brown
Trends in VBAC vs RCS rates in Brown County over two decades
Authors: Megan Murphy-Belcaster, M.D. Candidate, Candi Cornelius, MSN, RN, CLC, Heidi Brown, MD, MAS, FACOG
Congratulations to all presenters, and thank you to the Symposium planning committee for bringing together such a fabulous event!