ConnectRx launches in Madison clinics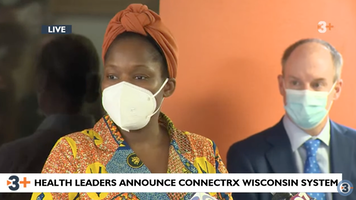 At a press conference on April 14, the Dane County Health Council and the Foundation for Black Women's Wellness announced the launch of ConnectRx in Madison clinics using Epic. ConnectRx is a care coordination tool within the electronic health record that will help providers working with Black pregnant patients navigate supportive resources for patients that are available in the community.
Tiffany Green, PhD, of the UW Ob-Gyn Division of Reproductive and Population Health, spoke at the press conference. As co-chair of the Black Maternal & Child Health Alliance of Dane County, Green has been actively involved in bringing ConnectRx to Madison health systems.
Watch the whole press conference here. Dr. Green's remarks begin at 37:09.
Several news outlets covered the press conference – learn more about ConnectRx and what it could mean for Black pregnant people in Dane County:
Community health partners launch ConnectRx Wisconsin, a care coordination system centered on Black women – Madison365
The Foundation for Black Women's Wellness announces new system supporting Black pregnant people - WKOW
New ConnectRx Wisconsin system aims to address Black infant mortality rate disparities – Channel 3000
Madison clinics using Epic Systems tool to steer pregnant Black women to resources – Wisconsin State Journal
Dane County Health Council and partners launch ConnectRx Wisconsin – Foundation for Black Women's Wellness