DEI Update: UW Ob-Gyn Celebrates Pride Month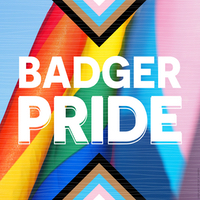 Happy Pride Month, a time for celebration, education, visibility, and liberation for the spectrum of people who make up the LGBTQ+ community: Throughout June, the campus and the Madison community have a series of events to celebrate the self-affirmation, dignity, equality, and visibility of the diverse group of people who make up the lesbian, gay, bisexual, transgender, gender-nonconforming, queer-plus community.
Take a look at this UW-Madison-curated list of campus and community events and resources! UW Health and the UW SMPH also host an LGBTQ+ Employee Resource Group, open to all employees of the SMPH and UW Health.
Interested in learning more about caring for LGBTQ+ members of our community? Check out these two podcasts featuring Ruth Yemane, MD, of the UW Ob-Gyn Division of Academic Specialists in Ob-Gyn:
Safe Spaces: Making Ob-Gyn Care More LGBTQ-Friendly
Wishing everyone a safe and happy Pride Month!