Former UW Ob-Gyn student presents at ASRM conference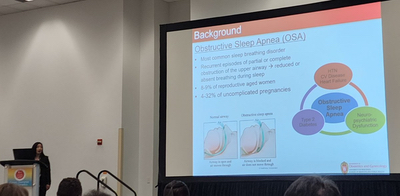 Sincere congratulations to Leeann Bui, MD, who recently presented an abstract at the American Society for Reproductive Medicine Scientific Congress in Anaheim, California! Bui, now an ob-gyn resident at Stanford Medicine, graduated from the UW School of Medicine and Public Health in 2022.
Bui presented "Assessing the Effectiveness of a Pregnancy-Specific Obstructive Sleep Apnea Screening Tool in Non-Pregnant, Reproductive-Aged Women" at the conference. Laura Cooney, MD, assistant professor in the UW Ob-Gyn Division of Reproductive Endocrinology and Infertility, and Katie Antony, MD, associate professor in the UW Ob-Gyn Division of Maternal-Fetal Medicine, were co-authors on the study.
Congratulations, Dr. Bui!