Green discusses economic burden of abortion ban in The New Yorker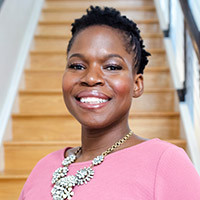 Since the May 2 leak of a draft U.S. Supreme Court memo that suggests the court's intention to overturn Roe v. Wade later this summer, we have seen an abundance of reporting on what that decision could mean for people across the country. In a new article in The New Yorker, UW Ob-Gyn Assistant Professor Tiffany Green, PhD, of the Division of Reproductive and Population Health, shared insight on the economic impacts of an abortion ban.
In "The Devastating Economic Impacts of an Abortion Ban", Green outlines the way the economic burdens of restricted abortion access will disproportionately affect people who are already marginalized, including women of color:
""Whether you believe abortion is a moral thing or not, the evidence is the evidence," Green told me. "And the overwhelming thrust of the evidence is that this is going to negatively impact women and other pregnant people's economic prospects, their mental health, their physical health, and ultimately their lives. The end of Roe v. Wade is likely going to have devastating fallout.""
Read the whole article here.