Green discusses health care disparities with Brava Magazine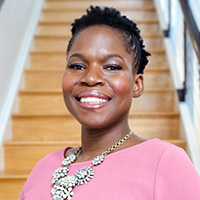 Wisconsin has some of the starkest disparities in health outcomes between Black and white moms and babies. In an article in Brava Magazine, Tiffany Green, PhD, of the UW Ob-Gyn Division of Reproductive and Population Health, joined other community leaders who are working to understand and address health disparities in Madison and Dane County.
In "Tackling Health Care Disparities", Green described some of the ways bias can affect health outcomes:
"One example, Green says, are medical algorithms that track how women have previously given birth. If a Black and/or Hispanic woman had a C-section for their first birth, then the algorithm might automatically suggest that a vaginal delivery will be unsuccessful and will recommend C-sections in the future. "There's no biological or genetic reason why that should be the case."

Green points out that although race (Black) and ethnicity (Hispanic) are sociocultural rather than biological or genetic constructs, they are included in the calculator used to assess a patient's probability of successful vaginal birth after cesarean (VBAC). Because there is greater risk for complications and death for both mother and baby with C-sections versus vaginal births, women of color are unnecessarily put in harm's way, she adds."
Other experts who provide insight in the article include Foundation for Black Women's Wellness President Lisa Peyton-Caire and Harambee Village Doulas Founder and CEO Tia Murray. Read the whole article here!