Green discusses perinatal care coordination issues with Wisconsin Public Radio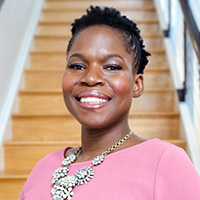 In January 2022, the Milwaukee Journal Sentinel published an investigation into prenatal care coordination companies in the Milwaukee area (note: article available to MJS subscribers only). On February 3, Tiffany Green, PhD, of the UW Ob-Gyn Division of Reproductive and Population Health, joined The Morning Show on Wisconsin Public Radio to discuss the investigation, and what prenatal care coordination should look like.
In the interview, Green talked about areas where care coordination could improve health outcomes and discussed a UW Health program (ConnectRx) she is involved with that aims to integrate social determinants of health with health care.
Read the article of Dr. Green's interview here, and listen to the whole Morning Show segment about prenatal care coordination in Wisconsin here.