Green discusses reimagining health care with PBS Wisconsin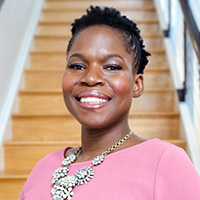 During Black Maternal Health Week in April, UW Ob-Gyn Assistant Professor Tiffany Green, PhD discussed maternal health disparities in Wisconsin, and how to change them, with PBS Wisconsin. In addition to her appointment in the UW Ob-Gyn Division of Reproductive and Population Health, Green is part of the UW-Madison Department of Population Health Sciences faculty.
In the article, Green (and other interviewed experts, including Jasmine Zapata, MD, of the UW SMPH Department of Pediatrics) talked about ways to reimagine health care and incorporate additional expertise to affect change:
"Researchers like Zapata and Green are emphasizing social scientists need to understand the issue in a way that highlights people's experiences in their own words.

"We need the voices of folks in the community and we need to center them," said Green. "And this is not just about a justice issue, it's a scientific robustness and rigor issue. We need to understand the data that we're seeing. We need to understand the context in which it was collected and we can't do that without the voices of the people in the community that are being affected.""
Read the whole article here.