Green gives McMaster University Labelle Lecture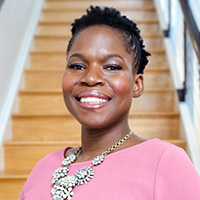 Tiffany Green, PhD, of the UW Ob-Gyn Division of Reproductive and Population Health, delivered the McMaster University Centre for Health Economics and Policy Analysis Labelle Lecture on November 11, 2020!
In the lecture "Saving Black Women and Babies: Leveraging Data and Community Engagement to Achieve Health Equity", Green provided an overview of maternal and child health disparities in the U.S., and the role of reproductive health care in these disparities. She used birth census data to evaluate impacts of health policy on birth outcomes, and how economics and health services research has ignored the racialization of those policies. Green also discussed the effects of social determinants of health on birth outcomes, and how this work led her to community-engaged research and projects like the Black Maternal & Child Health Alliance of Dane County.
Watch Green's whole lecture here, and learn more about the Labelle Lecture here. Incredible work, Dr. Green!