Green publishes op-ed in The Hill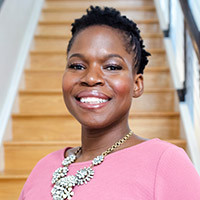 Tiffany Green, PhD, assistant professor in the UW Ob-Gyn Division of Reproductive and Population Health, published an opinion piece in The Hill during Black Maternal Health Week, April 11-17.
In "Ending the COVID emergency will further harm Black maternal mortality", Green shares recent maternal mortality statistics that show an uptick in maternal mortality that aligns with the COVID-19 pandemic, outlines concerns about disproportionate impacts of COVID on Black families, and offers suggestions for supporting the wellbeing of Black infants and families in the pandemic:
"Black-white inequities in reproductive health are a structural issue that cannot be resolved by focusing on medical care alone. Congress must act swiftly to pass the Black Maternal Momnibus Act in full. The act will provide resources to address the effects of pandemics during pregnancy and funds to community-based organizations that serve Black families."
Read the whole op-ed here.