Green receives Wisconsin Partnership Program New Investigator grant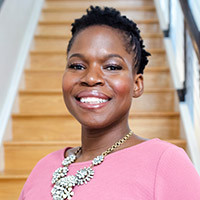 Huge congratulations to Tiffany Green, PhD, of the UW Ob-Gyn Division of Reproductive and Population Health! Green recently earned a Wisconsin Partnership Program New Investigator grant for the project "Evaluating the Impacts of Wisconsin's Birth Cost Recovery Policy on the Health and Wellbeing of Low-Income Black Birthing Parents: A Community-Centered Approach".
In Wisconsin, a law allows the state to collect Medicaid birth costs from unmarried fathers (learn more about this policy from the State Bar of Wisconsin). Green's project aims to better understand the effects of this policy on Wisconsin parents:
"This project, led by Tiffany Green, PhD, assistant professor in the departments of Population Health Sciences and Obstetrics and Gynecology, will work to better understand how BCR and other similar social policies impact inequities in health outcomes among low-income Black birthing people in the state of Wisconsin. Dr. Green and a team of interdisciplinary experts in the fields of economics, population health, pediatrics, social work, clinical/social psychology and community engagement will create an evaluation framework for BCR as a way of measuring the impact of this policy and collect evidence that can be useful in informing future policies and improving health outcomes statewide."
Incredible work, Dr. Green! Learn more about Dr. Green's impactful project here.