Green reframes vaccine disparities with WKOW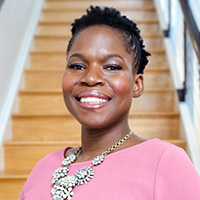 Tiffany Green, PhD, of the UW Ob-Gyn Division of Reproductive and Population Health, continues to add important context to conversations around inequities exposed by COVID-19.
According to the Wisconsin Department of Health Services, just over 28% of white Wisconsinites have received at least one dose of a COVID-19 vaccine, but that's only true for 11.5% of Black Wisconsinites. In a recent interview on WKOW in Madison, Green explained that the current disparity in COVID vaccination rates in Wisconsin has less to do with vaccine hesitancy than it does with access and availability:
""The disparities that existed before COVID are just being highlighted and heightened in the face of COVID," she said. "It's really important that we move away from this idea that vaccine hesitancy as the primary driver of disparities in vaccine uptake. ... What are the structural barriers to vaccines that make it difficult for some groups to get vaccinated?""
Check out the whole story from WKOW here!