Green writes about health disparities and election platforms in Medical News Today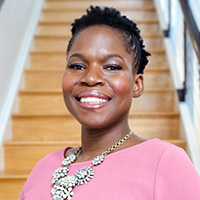 Health care and reproductive health are important issues for many voters heading into the 2020 presidential election. In Medical News Today, Tiffany Green, PhD, of the UW Ob-Gyn Division of Reproductive and Population Health, evaluates policy platforms in terms of how they might affect maternal and infant health disparities.
"What will the US election mean for Black-white disparities in maternal and child health?" reviews policy platforms around the Affordable Care Act, hospital-level reforms, family planning care, and racial bias in health care:
"The upcoming U.S. elections are some of the most consequential in recent memory, and healthcare policies that will impact the health of Black females and infants are on the ballot.

Understanding how policy agendas advanced by the Trump-Pence and Biden-Harris administrations might widen or narrow Black-white gaps in maternal and child health is imperative."
Read the whole article here!