Higgins quoted in article about mobile abortion clinics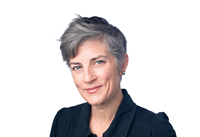 As questions arise about the future of abortion access in many states, health care providers are pursuing creative solutions to provide abortion care to more patients. In "Abortion care on wheels", the Wisconsin Examiner profiled Just the Pill, an online, nonprofit clinic that dispenses medication abortion. Just the Pill is working on rolling out mobile clinics in many states in an effort to expand access.
The Wisconsin Examiner interviewed UW Ob-Gyn Division of Reproductive and Population Health Director and UW Collaborative for Reproductive Equity Director Jenny Higgins, PhD, MPH for her perspective on where mobile clinics fit in the landscape of limited access to abortion care:
"She sees Just the Pill as part of an evolving view of reproductive health care that has moved from an era when only licensed doctors are allowed to provide abortion to a research-based understanding that nurse practitioners are just as capable of providing abortion safely. "The rise of telehealth has been a huge change in the way health care is delivered for many different services, including abortion care," Higgins says. "I think what Just the Pill is capitalizing on is not just the shift to telehealth, but also this need at times to be able to be physically mobile versus a brick and mortar clinic.""
Read the whole article here.