Hoppe presents Community Talk "High Blood Pressure During Pregnancy & Beyond"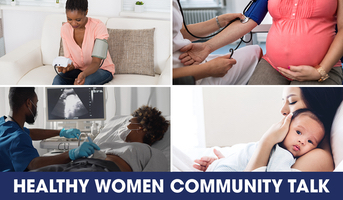 In the first UW Ob-Gyn Healthy Women Community Talk​ of the year, Kara Hoppe, DO, MS, associate professor in the Division of Maternal-Fetal Medicine, shared research and resources about hypertension and pregnancy.
In "High Blood Pressure During Pregnancy and Beyond", Hoppe helped participants understand blood pressure basics, get to know blood pressure ranges during pregnancy and when not pregnant, learn about lifetime risks for cardiovascular disease and other complications after hypertension during pregnancy, and more.
You can watch the whole presentation on YouTube – please share with anyone who may have questions about preparing for healthy pregnancy with high blood pressure, preeclampsia signs and symptoms, or managing their health after having high blood pressure in pregnancy.