Hoppe's telehealth blood pressure study published in AJOG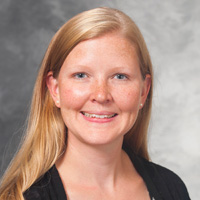 Kara Hoppe, DO, of the UW Ob-Gyn Division of Maternal-Fetal Medicine, published results from her telehealth postpartum hypertension management study in the American Journal of Obstetrics and Gynecology!
"Telehealth with remote blood pressure monitoring compared with standard care for postpartum hypertension" compares outcomes for patients who participated in the telehealth with remote monitoring program with patients who followed current postpartum hypertension standard of care. The study primarily evaluated for postpartum hospital readmission, with secondary variables of "hypertension-related postpartum emergency room (ER) or triage visits, the number of BPs acquired within 10 days of delivery, and the use of antihypertensives in the 6-week postpartum period."
The study found:
"Telehealth with remote BP monitoring in combination with standardized management of postpartum hypertension was associated with a reduction in the number of readmissions when compared with standard outpatient care. Telehealth with remote BP monitoring offers a promising strategy for achieving higher number of postpartum BP acquisitions, early identification and treatment of uncontrolled hypertension, and ultimately reducing the number of hospital readmissions."
Read the whole paper here!