Hoppe's telehealth grant featured in Wisconsin Partnership Program article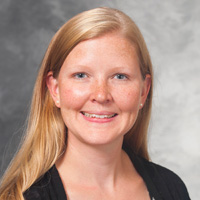 A new article from the Wisconsin Partnership Program features the "Advancing Postpartum Care For Black Women in Wisconsin By Engaging Community Partners With a Home Telehealth Service for Hypertension" program, led by UW Ob-Gyn Maternal-Fetal Medicine specialist Kara Hoppe, DO! The program is funded by a WPP New Investigator grant.
In the article, Hoppe discusses the postpartum health concerns that led her to start the Staying Healthy After Childbirth home telehealth hypertension program. Tia Murray, co-investigator on the grant and co-founder of Harambee Village Doulas, offers insight into the community-academic partnership of the grant, and the importance of including doulas in the work:
"The role of community-based doulas and certified lactation counselors in this project is essential in providing social and emotional support for mothers while fostering a trusting relationship. The doulas work on addressing postpartum care, lactation, and social and mental health needs for women in the program."
Read the whole article here!