Hutcherson published in Wisconsin Medical Journal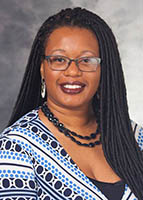 In the Wisconsin Medical Journal special issue on the impact of race and racism on health, Beverly Hutcherson published an article on her experience as part of the UW SMPH Diversity and Inclusion Advocates (DIA) Program. In addition to her full-time role in the SMPH Dean's Office in diversity and inclusion, Hutcherson is a graduate student in the lab of David Abbott, PhD (UW Ob-Gyn Division of Reproductive Sciences).
Hutcherson co-authored "When We Become 'We'" with three other members of the UW SMPH DIA program. In the article, they each reflect on their individual identities, and the intentional efforts they made to build a cohesive group engaged in combatting racism and bias in our institution:
"Despite being of different racial and ethnic backgrounds, through vulnerability, active listening, humility, personal accountability, self-awareness, and reflection, we established a foundation of trust. Developing trust was the critical nutrient that fueled our relationships. Originally, this program brought us together to focus on a shared mission to transform our workspace. Over time, however, we realized effectiveness required us to center our humanity, moving away from didactic practice and towards relationship-building. The resolution for the racism that plagues our institutions lies within our ability to connect with our colleagues and our communities personally, with authenticity. It is when we become a collective "we.""
Read the whole article here.