Hutcherson wins presentation award at Wilbert C. Jordan Research Forum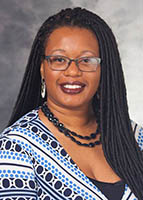 Beverly Hutcherson, graduate student in the Endocrinology and Reproductive Physiology program, won Best Poster Presentation at the Wilbert C. Jordan Research Forum during the Student National Medical Association Annual Medical Education Conference in April!
Hutcherson's translational science poster "PCOS research informs biological understanding of developmental origins contributing to maternal morbidities" was described by poster competition judges as "legendary" and "beyond anything they had heard on the subject". During her training in the ERP program, David Abbott, PhD, of the UW Ob-Gyn Division of Reproductive Sciences, has been her faculty mentor.
Congratulations, Beverly!