Jacques discusses Dobbs' impact on ob-gyn residency applicants with Hechinger Report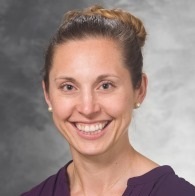 As medical students consider which residency programs to apply to this year, some may add a new consideration to the mix: whether abortion training is available in the states where they apply.
In an article published by The Hechinger Report, "Overturning Roe created new barriers, not just to abortion, but to OB-GYN training", UW Ob-Gyn Assistant Professor Laura Jacques, MD, discussed research that suggests incoming ob-gyn residents highly value access to abortion training:
""I can tell you that 100% of them are considering the availability of abortion training when they're creating the [list of] programs that they want to apply to," she said.

Research supports that view. A recent, yet-to-be-published survey of OB-GYN residents in Wisconsin and Minnesota found that 95% of them wanted to learn more about the need for safe, comprehensive abortion care, and 84% planned to provide abortion care in their future careers."
Read the whole article here.