Mind Over Matter team's Paster Award honored on SMPH site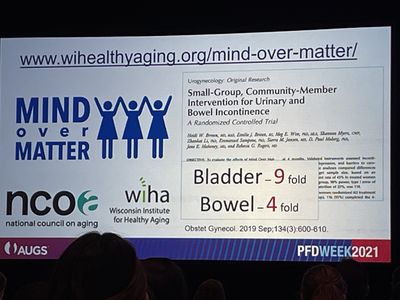 The Mind Over Matter: Healthy Bowels Healthy Bladder team, led by UW Ob-Gyn Division of Female Pelvic Medicine and Reconstructive Surgery faculty Heidi Brown, MD, MAS, recently earned the 2021 Paster Family Foundation Innovation Award. Now, the team's work and accomplishments are highlighted in a new article from the UW School of Medicine and Public Health:

""Our research team is honored to have Mind Over Matter: Healthy Bowels, Healthy Bladder selected as the 2021 recipient of this award," says research specialist Madeline Moureau on behalf of the winning research team. "Our team plans on applying this award toward our current goal of understanding how to best support the needs of Wisconsin communities that are not currently reached by our program.""
Read the whole article here. Congratulations to the Mind over Matter team!