Montemorano and Betancourt Ponce selected to UW Carbone Cancer Center Trainee Society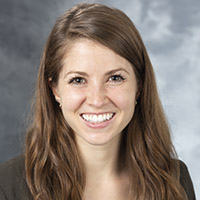 Huge congratulations to UW Ob-Gyn gynecologic oncology fellow Lauren Montemorano, MD and UW SMPH MD/PhD student Mayra Betancourt Ponce, who were both invited to join the UW Carbone Cancer Center Trainee Society! Betancourt Ponce is a student in Lisa Barroilhet, MD's lab.
The UWCCC Heidi Dvinge and Patti Keely Trainee Society connects cancer research trainees to funding opportunities, connecting trainees of all levels and research areas, providing a voice for cancer research trainee needs, and more.
Learn more about the UWCCC Trainee Society here. Congratulations, Dr. Montemorano and Mayra!