Patel selected as 2022 FPMRS fellow!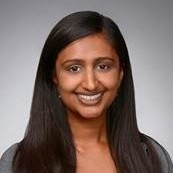 The UW Ob-Gyn Division of Female Pelvic Medicine and Reconstructive Surgery, and FPMRS Fellowship Director Christine Heisler, MD, are thrilled to announce that Ushma Patel, MD will join us as our second FPMRS fellow in July 2022! Patel is currently a PGY-3 resident in our department.
Patel attended Marquette University for her undergraduate degree, and earned her MS from the Loyola University Chicago Stritch School of Medicine. She is the UW Ob-Gyn Residency Class of 2022's Global Health Resident, and a member of the UW Ob-Gyn Diversity, Equity and Inclusion committee.
Dr. Patel's dedication to serving women with complex pelvic conditions coupled with her strong surgical skills make her an excellent addition to the UW Ob-Gyn FPMRS fellowship, and we are so pleased that she will be sticking around for a few more years after residency.
Congratulations, Dr. Patel!