Racine published in Wisconsin Medical Journal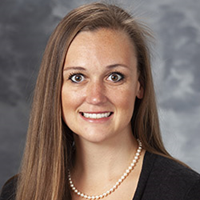 A new study published in the Wisconsin Medical Journal by UW Ob-Gyn maternal-fetal medicine fellow Jenna Racine, MD sought to survey birthing centers in Wisconsin to better understand barriers to disclosing their level of maternal care. The article was co-authored by UW-Madison Prevention Research Center Deputy Director Kate Gillespie, DNP, Cynthie Wautlet, MD, of the UW Ob-Gyn Division of Academic Specialists in Ob-Gyn, and Katie Antony, MD, of the UW Ob-Gyn Division of Maternal-Fetal Medicine.
"Barriers to Self-Disclosing Level of Maternal Care: What Are Wisconsin Hospitals Worried About?" found that:
"Birthing centers in Wisconsin need further guidance on how to complete a self-assessment of their LOMC. In order to increase self-disclosure of LOMC, statewide perinatal organizations will need to continue to emphasize the benefits of releasing this information. Organizations should also provide additional support to level 1 and 2 birthing centers and improve maternal and neonatal care overall."
Read the whole study here!