Register for 3rd Annual Virtual Black Maternal & Child Health Summit on April 20, 2023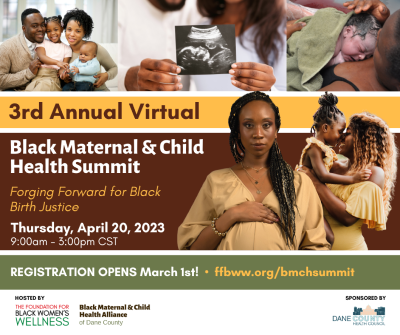 Register today for the 3rd Annual Virtual Black Maternal & Child Health Summit on Thursday April 20, 2023 9am – 3pm CST! Register here for the event.
The annual BMCH Summit is the outgrowth of the Saving our Babies work the Foundation for Black Women's Wellness and the Black Maternal and Child Health Alliance and partners are deeply engaged in here in Wisconsin, to address and eliminate the alarming first-and-worst in the nation birth disparities and inequities impacting Black mothers, babies, and families in our state.
The Summit is a one-day virtual conference for Black Women, Mothers, Birthing Persons, Birth Workers, Community Leaders and Reproductive Justice Advocates in Wisconsin and across the country. The Summit underscores the urgency and intention of our work, and is meant to focus on solutions while centering and elevating the work of Black women leaders and birth workers.
Last year's conference attracted over 200 attendees from across the state and nation. This year's theme, Forging Forward for Black Birth Justice, highlights the wisdom of local and national speakers sharing personal, professional and policy and systems actions we can take to secure the lives of Black birthing persons and babies!