Stanic earns best poster award at ASRI annual meeting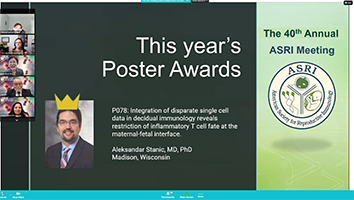 Our congratulations to Aleks Stanic-Kostic, MD, PhD, of the UW Ob-Gyn Divisions of Reproductive Endocrinology and Infertility and Reproductive Sciences! He attended the American Society for Reproductive Immunology virtual meeting in May, where he won the Best Poster award.
Stanic received the award for the poster "The integration of disparate single cell data in decidual immunology reveals restriction of inflammatory T cell fate at the maternal-fetal interface."
Incredible work, Dr. Stanic!