Stanic presents at NICHD workshop on early pregnancy loss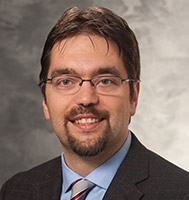 Aleks Stanic, MD, PhD, of the UW Ob-Gyn Divisions of Reproductive Endocrinology and Infertility and Reproductive Sciences, was recently invited to speak as part of a group of experts at the NIH National Institute on Child Health and Human Development's workshop "Idiopathic/Non-aneuploid Early Pregnancy Loss: The State of the Science". Stanic presented as part of the session "Impact of Maternal Health, Infection and Immunological Factors".
Stanic gave the lecture "Leveraging integration of single cell data to unravel decidual immunology":
"Lymphocytes at the maternal-fetal interface are a complex mixture of innate and adaptive immune cells, dynamically responding to changing local and systemic signals across the continuum of pregnancy. Their alterations are implicated in full spectrum of pregnancy pathology – from euploid miscarriage to preeclampsia, preterm labor and abruption. Understanding of mechanisms underlying the pivotal role lymphocytes have at the decidua is undergoing a revolution due to increasing availability of single cell analysis platforms at the transcriptome, antigen receptor repertoire, surface proteome and epigenome levels. While this deluge of data has allowed for discovery of novel cell types and revealed new and unexpected functions of decidual lymphocytes, unbiased analysis and integration of such datasets is the rate-limiting step impeding progress in reproductive immunology. Herein, we will discuss methods for normalization, matching, and analysis of single cell RNA sequencing data reflecting decidual T cell gene expression, limited surface proteomes and V(D)J repertoire. We will additionally discuss the opportunity to match and use scRNAseq data in conjunction with previously available bulk/sorted cell sequencing data to expand our ability to interpret existing datasets. Taken together, we aim to address gaps in our understanding of decidual immunology necessary to address the scourge of unexplained recurrent pregnancy loss."
The presentation was reflective of collaborative efforts between the Stanic Lab and the Ong Lab, led by Irene Ong, PhD. In an exciting first, Stanic's lecture was mentioned on the NICHD Twitter!
Incredible work, Dr. Stanic!