Stewart published in FASEB BioAdvances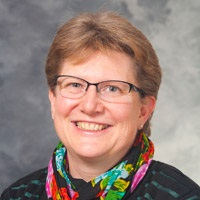 Kathy Stewart, MD, of the UW Ob-Gyn Division of Maternal-Fetal Medicine, co-authored a new publication in the journal FASEB BioAdvances about adapting medical school instruction to meet educational needs and maintain safety during a public health emergency.
In the UW School of Medicine and Public Health, Stewart is the Director of Core Clinical Curriculum and Phase 2 Director for medical student education. "Patient care, public health, and a pandemic: adapting educational experiences in the clinical years", which was published in a special issue of FASEB BioAdvances dedicated to managing MD program curricula during the pandemic, describes the UW SMPH approach to adapting clinical curriculum and integration of public health principles for medical students during the height of the COVID-19 pandemic:
"Despite the ongoing stresses maintaining high‐quality medical education throughout the pandemic, this experience has redemonstrated the scope of possibility from work of the committed teams that have built and now adapted the new ForWard curriculum. The initial building of a highly integrated curriculum forced the creation of necessarily collaborative teams. Having centralized so many of our educational processes also streamlined coordination with the healthcare institutions where UWSMPH students train across the state of Wisconsin, allowed for system‐level solutions, rather than each course and department independently working to develop online curriculum and adapted clinical experiences. Without the preexisting collective mindset and dedication of individual faculty and staff of this medical school, these creative yet rapid adaptations may not have been possible."
Read the whole article here. Congratulations to Dr. Stewart and UWSMPH curriculum leaders for adapting so successfully to the past year's challenging circumstances!