Tamkus presents at 2022 HAGO meeting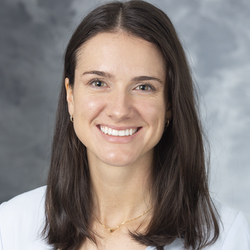 UW Ob-Gyn resident Saule Tamkus, MD, PGY-2, presented at the Heartland Association of Gynecologic Oncology Annual Meeting in Ann Arbor, Michigan on September 29, 2022!
Tamkus presented the abstract "Analysis of the Initial Years of Gynecologic Oncology Standardized Letters of Evaluation (SLOE) for Fellowship Applications" at the conference. UW Ob-Gyn Residency Program Director and Gynecologic Oncology Fellowship Director Ryan Spencer, MD, MS, was senior author on the abstract. The data Tamkus presented will guide future iterations of SLOEs in the GYN Oncology fellowship application process.
Congratulations, Dr. Tamkus!