UW Ob-Gyn named Preeclampsia Center of Excellence by Preeclampsia Foundation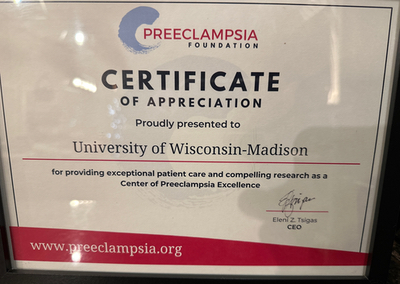 After a highly successful visit from Preeclampsia Foundation CEO Eleni Tsigas in the summer of 2022, the Department of Ob-Gyn was named a Preeclampsia Center of Excellence!
In June 2022, Kara Hoppe, DO, MS, associate professor of Maternal-Fetal Medicine, Ian Bird, PhD, professor of Reproductive Sciences, and Derek Boeldt, PhD, assistant professor of Reproductive Sciences, presented their respective clinical and foundational preeclampsia research to Tsigas. The visit also included a roundtable lunch with patients and nurses and a site visit to EPIC, where Hoppe served as the physician representative.
The visit was a tremendous effort from all involved and this Preeclampsia Center of Excellence designation is well-deserved!