UW Ob-Gyn research and presentations at 2022 ACOG Annual Meeting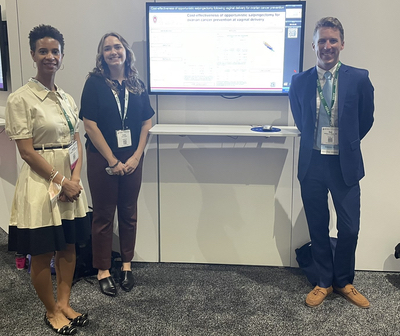 The American College of Obstetricians and Gynecologists held the Annual Clinical and Scientific Meeting in San Diego May 6-8, 2022. Faculty, fellows and residents in the UW Department of Ob-Gyn brought many exciting presentations and projects to the conference. Read more about some of their awesome accomplishments:
Division of Academic Specialists in Ob-Gyn Director Makeba Williams, MD gave the Morton and Diane Stenchever Lecture "The Women's Health Initiative: Controversy, Confusion, Consensus" at the opening of the day on May 8:
"In 2022, is hormone therapy safe? Have we reached a point of consensus? The Women's Health Initiative hormone therapy trial preliminary results were released summer 2002, completely altering the practice of prescribing hormone therapy to midlife and menopausal women. Controversy and confusion immediately ensued. Attend this thought-provoking session to better understand current recommendations, management strategies and treatment options for menopausal patients."
Division of Gynecologic Oncology Director Stephen Rose, MD, presented "A Revised Markov Model Evaluating Oophorectomy at the Time of Hysterectomy for Benign Indication", co-authored by Gynecologic Oncology Fellow Shannon Rush, MD, during a late-breaking abstracts session on May 8.
More posters and presentations:
Black Women With Low Numeracy Fare Worse in Diabetic Pregnancies - Jennifer Jacobson, MD; Amy Godecker, PhD; Jennifer Janik, MD; April Eddy, MS; Jacquelyn Adams, MD
Assessment of In-Hospital Pain Control After Childbirth and Its Correlation With Anxiety in the Postpartum Period – Clara Olson, BS; John Poehlmann, MD; Zachary Stowe, MD; Kathleen Antony, MD
Clinical Application of a Previously Validated Pregnancy-Specific Screening Tool for Sleep Apnea – Kathleen Antony, MD
Operationalizing Aspirin to Reduce Preeclampsia Risk and Related Morbidity and Mortality – Maya Gross, MD; Katherine Sampene, MD
Leveraging Quality Improvement to Promote Health Equity: Prenatal Aspirin Recommendations by Race - Maya Gross, MD; Katherine Sampene, MD
In the Eye of the Beholder: Perspectives of Fellowship Applicants on Virtual Interviews - Christine Heisler, MD
Cost-Effectiveness of Opportunistic Salpingectomy Following Vaginal Delivery for Ovarian Cancer Prevention – Matthew Wagar, MD; Makeba Williams, MD
Incredible work, all!