UWPRC invites you to two Birthing Justice screenings and launch of Hoppe's research project in April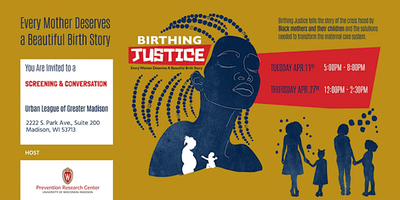 The UW-Madison Prevention Research Center invites community members, faculty, students, and staff to two screenings of the film Birthing Justice, "a documentary that flips the victim-blaming narrative by centering the lived experiences of Black women and their advocates as they fix a broken system one birth at a time."
The film screening will be followed by a panel discussion and introduction of the new PRC Core Research Project led by UW Ob-Gyn Associate Professor Kara Hoppe, DO, MS!
Hoppe's research centers on cardiovascular health during the prenatal and postnatal periods. Her previous research has centered on Black women receiving doula services to support in-home blood pressure monitoring to address preeclampsia and HTN, a leading cause of maternal mortality and morbidity among birthing people. The fetus/infant is also at risk due to preterm labor and low-birth weight.
The community event will take place during Black Maternal Health Week on April 11 from 5-8 at the Urban League in Madison. Dinner will be served. Learn more and register for the April 11 event.
A campus event will be focused on academic staff and students on April 27 in HSLC room 1345 from 12:00-2:30. Community members are also welcome to attend. Learn more and register for the April 27 event.