90 attendees gather in Madison for Clinical Embryologists Summit Conference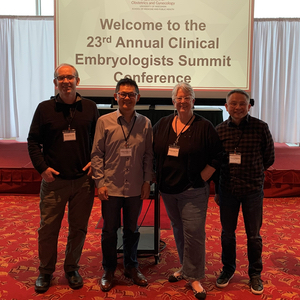 More than 90 professionals from reproductive endocrinology and infertility organizations across the country visited Madison for the 23rd Annual Clinical Embryologists Summit (CES) Conference April 29-30, 2022.
The CES Conference is an annual event designed to give participants an informal setting to share ideas and to interact with invited speakers and other clinical embryologists. The conference brought attendees from 22 states together for lively interaction around assisted reproductive technology topics.
During the conference, attendees enjoyed a keynote by Sheela Ali, PhD, Scientific Director of Dallas IVF, as well as presentations focused on disaster preparedness for REI labs, common traits of high-performing IVF programs, COVID safety in laboratory settings, and more.
Huge congratulations to Generations Fertility Care Laboratory Director Zeki Beyhan, PhD, UW Ob-Gyn Event Coordinator Autumn Hayes, and the entire CES Conference planning committee for planning and executing an incredible event!