Advocacy Update: 2022 elections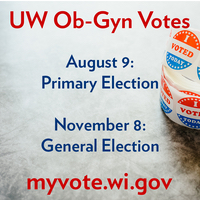 It takes more than good medical care to ensure optimal health outcomes in our community. Health is mainly influenced by where we live, work, learn, and play. Civic engagement can improve the conditions that influence health and well-being for all.
Learn more about election resources on campus, options for providing voting information in clinical spaces, and voting guidelines in Wisconsin:
This site, managed by the University of Wisconsin-Madison, includes information for in-person absentee voting on campus, rules about voter ID, and more!
Learn about resources to encourage civic engagement in clinics, including lanyard badges, conversation starters, and more!
Check on your voter registration status, learn where your polling place is, register to vote online (deadline to register online for the August primary is July 20; deadline to register online for the November general election is October 19), request absentee ballots, and more!