Barroilhet joins Crossing the Line podcast to discuss Dobbs' impact on health care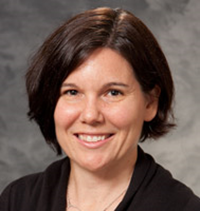 On a recent episode of the new podcast Crossing the Line, Lisa Barroilhet, MD, MS, associate professor in the Division of Gynecologic Oncology, discussed Wisconsin's abortion ban and the challenges of navigating the "life of the mother" exception.
In the episode "A Matter of Life or Death", Barroilhet talks about the lack of clarity that affects the kinds of health care patients may be offered:
"This is very different than anything we've faced before. There's no roadmap for that….

…It's very clear that it has to be life-saving, so her life, presumably, has to be in somewhat proximate danger. Not theoretical or abstract danger. There's patients who may have subclinical infections or things that are very likely to progress and get worse…but how far do you let that go? How long do you wait? Very challenging to get that right, it's a very narrow definition. And the reality is there's a multitude of health-related reasons why abortions are done in our country every day."
Listen to the whole episode here!