Faculty and residents attend 2023 ACOG Congressional Leadership Conference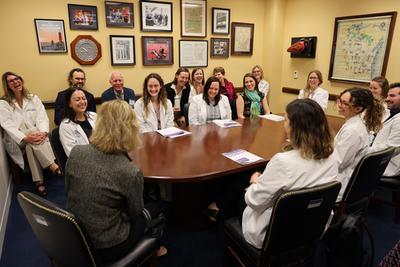 UW Ob-Gyn faculty and residents learned about effective engagement and visited members of the Wisconsin congressional delegation during the 2023 American College of Obstetricians and Gynecologists Congressional Leadership Conference March 5-7 in Washington, D.C.
UW Ob-Gyn Residency Director and Associate Professor Ryan Spencer, MD, MS, Clerkship Coordinator and Assistant Professor Laura Jacques, MD, resident Benjamin Pickus, MD, PGY-2, and resident Margaret Harrison, MD, PGY-3 attended informational sessions about effective advocacy and met with Wisconsin legislators to discuss health care access and other key issues affecting reproductive health in Wisconsin. Their time in DC included a visit with Senator Tammy Baldwin.
Thank you all for bringing important health issues to Wisconsin legislators' attention!