First FPMRS fellow announced! Welcome Dr. Kristina Warner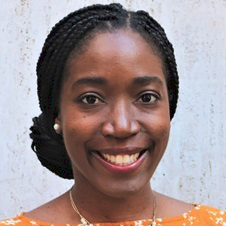 The Female Pelvic Medicine and Reconstructive Surgery Fellowship Team is pleased to announce that Kristina Warner, MD has matched as our July 2021 incoming fellow. This is exciting news as she will be the first fellow to begin training in our newly accredited fellowship program.
Warner graduated from the University of Pennsylvania with a B.S. in Biology, earned her medical degree from the University of Rochester School of Medicine and Dentistry, and is currently completing her Ob-Gyn residency at Northwestern University.
She will bring to our fellowship program a strong commitment to academic medicine. As stated in her application, she "aspires to complement her clinical practice with research specific to underserved, minority groups in hopes of informing the practice of evidence-based medicine in these populations." Warner is pursuing the FPMRS specialty "to make a lasting impact on the lives of women affected by pelvic floor disorders by providing the compassionate, high-quality care that they deserve."
We are very happy that she has matched to our fellowship program! Welcome, Dr. Warner!