FPMRS division presents "Break Free from Pelvic Floor Disorders" talk on November 17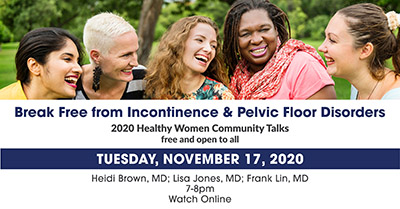 The next UW Ob-Gyn Healthy Women Community Talk is coming up November 17, 2020 from 7-8pm!
Presented by Heidi Brown, MD, of the Division of Female Pelvic Medicine and Reconstructive Surgery, Lisa Jones, MD, of the UW SMPH Department of Medicine, and Frank Lin, MD, of the UW SMPH Department of Urology, "Break Free from Incontinence and Pelvic Floor Disorders" will answer questions about common pelvic floor disorders like urinary and fecal incontinence, and pelvic organ prolapse.
This virtual event is free and open to all! Learn more and register here.